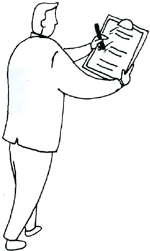 Just like the barefoot kids of the local cobbler I find the installation of many software packages ironic and painful. Lately I've been talking, a lot, to development managers about getting their deployments scripted and to business people about why Fast, Easy, Reliable deployments are important to them.
Strangely, there seems to be a real lack of understanding on the part of developers about what a build script should do. I blame

IDEs

for allowing developers to mostly ignore how things get built and deployed - but I could be wrong.
Anyway, I've written a list of generic requirements for an automated deployment and this seems to have helped several folks focus their efforts so I thought I would share. I have gotten some feedback that this list is 'pie in the sky' but I reject that while allowing that some of these things are not all that easy.
An automated deployment should:
Start with a single package.


Reliably put the target environment into a known state.


Ensure that required disk space is available.


Save anything needed for rollback.


Place all files where they belong.


Register anything that needs to be registered.


Configure anything that needs to be configured.


Start everything that needs to be started.


Validate the state of the application.


Validate connectivity to all required resources such as databases.


Report Success or failure and the name of the artifact you have deployed.


Log all relevant deployment activities.

Starting with a single package is important because it's a lot easier and less error prone to move one jar file than a jar file,
a couple
of properties files, a
config
.
xml
etc. Plus you can give the package a name and store it someplace for later.
By "Reliably put the target environment in a known state" I mean just that. If you need to shut down an application server you should also search for and kill any hung processes. If there are status flags, set them to the correct value; basically clean the kitchen before you start cooking.
Nobody wants to get part way through a deployment just to run out of disk. Check it first. This is a no-
brainer
, but often overlooked.
Save your old stuff so you can drop back and punt if needed. I would urge you to save it into a single package just like the one you're deploying. I don't think you should rely on going back to the old package as there may be required changes in the current environment. Those changes should have been the result of a proper deployment, but stuff happens...
Place your files. I usually call this sprinkling - the deal is that your script needs to put every file where it belongs, using an appropriate path reference. If it is always going to be the same in relation to the root directory, I like fully qualified path names. Otherwise I like paths names relative to the installation directory -
hopefully all
within the installation directory.
Register things that are registered. I don't know what you might be registering, but get it done here. Also, start from scratch each time. If you rely on something already being there, at some point it won't be, so trust nothing.
Configure things that need to be configured - whatever they are - same as above, start from scratch. Rather than sending a deltas for a
config
.
xml
send the whole (version controlled) file with the contents you want.
Start everything up. Do this in the
script
rather than expecting the guy doing the deployment to do it manually. There's no telling how many hours of otherwise useful human activity have been squandered on troubleshooting just to find that something did not get started when it should have.
Having started everything, go look to see that it is really running. Seems simple because it is.
Validate connectivity. If you need it for production make sure you can talk to it and that it answers. This does not have to be complex, a simple select statement, ping or whatever makes sense for the end point you need.
When something is completed, say so, when something fails, make some noise. Let the
poor
guy doing this in the middle of the night know what's going on. Also, reiterate what version has just been deployed; I have seen people go through a long deployment and troubleshooting session just to find that they deployed the stuff from the previous release.
Build a log as you go. Tell me when each thing starts and stops and what you did. Do not dump a bunch of useless noise in the log though. It should read like a detective's notebook.
22:17 Copied Blahblah1.2.jar to...

22:20 Change directory to /user/loc...
22:20 Executed jar - xf...
Above all put yourself in the shoes of somebody that has to deploy your app along with 20 others, in the middle of the night, while taking calls from people that want status, and trying to grab a bite to eat.
Thanks for reading - Mike